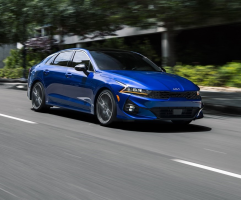 — A Kia K5 recall includes more than 189,000 vehicles equipped with side curtain airbags that may not deploy properly.
The 2021-2023 Kia K5 side curtain airbags can fail if they weren't correctly installed at the Kia Georgia assembly plant.
A Kia engineer was inspecting a 2021 K5 that had been involved in a crash. The engineer noticed there may have been a problem with how the driver's side curtain airbag deployed in the crash.
Photos were sent to the Kia Georgia plant where engineers inspected the affected 2021 K5 vehicle and confirmed improper installation of driver's side curtain airbag. However, the passenger side curtain airbag was installed properly.
Kia did a field search but found no additional airbag incidents, no injuries and no fatalities.
Kia K5 recall letters are expected to be mailed April 7, 2023, and dealerships will reinstall the side curtain airbags if necessary.
Kia K5 owners may contact Kia at 800-333-4542 and use airbag recall number SC263.