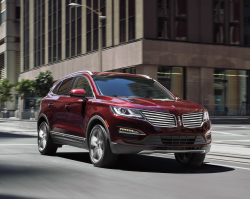 — A Lincoln MKC battery fire recall involves more than 142,000 SUVs that should be parked outside and away from anything that can catch fire.
The battery fire recall includes 2015-2019 Lincoln MKC vehicles equipped with 12-volt battery monitor sensors that may short-circuit and overheat.
The Lincoln MKC can catch fire inside the engine compartment whether the SUV is running or parked and turned off.
Ford is aware of 19 Lincoln MKC battery fires in SUVs that were parked and turned off, and seven of those Lincoln MKC fire reports were filed since December 2022.
According to Ford, 11 of the MKC battery fires were in the U.S., seven were in China and one was reported in Canada.
Ford says the Lincoln MKC battery monitor sensor location may allow damage when the battery or electrical components are serviced. An electrical short-circuit in the sensor's printed circuit board could occur if the battery monitor sensor housing is damaged.
"If this happens, a lack of fusing in the sensor power circuit may cause the surrounding materials to overheat." — Ford / Lincoln
The automaker says Lincoln MKC owners do not have to stop driving their SUVs, and Ford is not aware of any crashes or injuries related to the battery fires.
Lincoln MKC owners should park outside and away from buildings or other vehicles while dealerships collect the necessary replacement parts. If it is not possible to park outside, contact a Ford/Lincoln dealership and explain things.
Lincoln MKC owners have until November 30, 2023, to seek reimbursement for previous out-of-pocket repairs.
Ford dealers will add in-line fuses to the battery monitor sensor power circuits. The in-line fuse will allegedly prevent electrical current load, due to shorting, from overheating surrounding material.
Lincoln MKC battery fire recall letters will be mailed June 26, 2023.
Lincoln owners with concerns should call 866-436-7332 and ask about Lincoln MKC battery fire recall reference number 23S28.