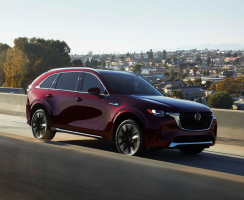 — It's 2023, but 2024 Mazda CX-90 SUVs have already been recalled, although only 18 vehicles are involved.
The 2024 Mazda CX-90 SUVs may have missing bolts for the steering intermediate shafts.
In addition, the front ABS (anti-lock brake system) wheel speed sensor harnesses or front upper control arms may not have been tightened to specification or may be missing.
Mazda says this can result in loose or detached components and a loss of steering control.
In addition, there will be no warning of a problem. However, there have been no crash or injury reports.
Owners with questions should call Mazda at 800-222-5500.