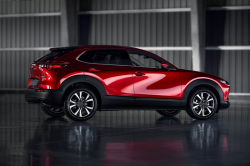 — Mazda braking problems have caused a recall of 2022-2023 Mazda CX-30 and 2023 Mazda CX-50 SUVs.
The recall includes about 2,566 SUVs in Canada and the U.S. because the anti-lock brake system (ABS) hydraulic control units (HCU) may be damaged internally.
The brake problems can cause the brake pedals to travel longer and will also cause extended stopping distances in the Mazda CX-30 and CX-50 vehicles.
In December 2022, Mazda in Mexico was contacted by a supplier regarding how the HCUs were used in Mazda CX-30 SUVs. Mazda did a search of any CX-30 and CX-50 that used the affected component and determined at least one CX-50 contained the part.
Mazda says there have been no crash or injury reports.
Mazda will mail braking recall letters June 17, 2023. Mazda dealers will inspect and possibly replace the anti-lock brake system hydraulic control units.
Mazda CX-30 and Mazda CX-50 owners may contact Mazda at 800-222-5500 and ask about recall number 5823D.