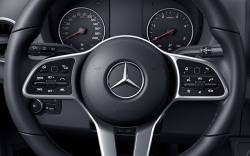 — A Sprinter van recall alleges van drivers start the vehicles but nothing lights up on the instrument cluster panels.
About 8,000 vans are included in the recall, including 2019-2022 Mercedes-Benz Sprinters and 2019-2022 Freightliner Sprinters.
Mercedes-Benz says the problem is rare, but if it happens the speedometer, fuel gauge, turn signals, warning messages and audio warnings won't be available.
The instrument cluster will remain blank once the Sprinter van is started and remain blank each time the van is started.
"Due to a deviation in the development process, the processor of the instrument cluster might be overloaded at vehicle start up and as a result, the instrument cluster might not function. Before the issue occurs, the driver will not receive a warning." — Sprinter van recall
A Mercedes assembly plant discovered the problem in January 2022 during end-of-line testing.
Engineers investigated the problem and determined the problem occurred during internal testing but not in the field. Mercedes closed the investigation in March 2022.
But Mercedes-Benz later found reports of blank instrument clusters and engineers determined the processor of the instrument cluster might be overloaded at start.
According to Mercedes, there have been no crashes or injuries.
Sprinter dealers will update the instrument cluster software once van recall letters are mailed May 1, 2023.
Sprinter owners may call 877-762-8267 and refer to recall number 5496331.