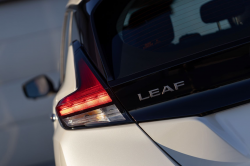 — Nissan is recalling more than 700 LEAF cars because brake fluid may leak and cause extended stopping distances.
The 2023 Nissan LEAF electric vehicles may have right-hand brake tubes that were damaged and which could corrode.
The corrosion can cause brake fluid to leak from a hole in the brake line.
In January, a Nissan technician discovered damage on a right-hand brake tube assembly system being installed on a 2023 Nissan LEAF.
Nissan and the supplier investigated 975 brake assemblies and discovered damage on 25 right-hand brake tubes at the actuator connection bend. Additionally, Nissan conducted a yard audit of 395 vehicles and reported five with scratched or damaged right-hand brake tubes.
"The supplier's investigation determined that incorrect tooling was used to align the brake tube into the pipe bending jig. Because the brake tube was misaligned, the tooling clamped the pipe in the incorrect position and caused scratching and in some cases deformation of the tube at the actuator bend." — Nissan
Nissan performed brake performance tests and engineers concluded a LEAF driver could experience braking problems without warning.
Nissan is unaware of any warranty, crash or injury claims relating to the brake fluid leak problem.
Nissan LEAF drivers may see brake warning lights if enough brake fluid is lost.
Nissan LEAF recall letters will be mailed July 7, 2023, and dealers will possibly replace the right-hand brake tubes.
Nissan LEAF owners may call 800-867-7669 and use recall number PC976.