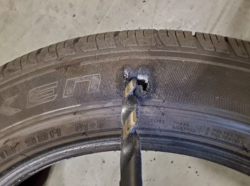 — A 2023 Subaru Ascent recall has been announced for more than 4,400 SUVs equipped with 20-inch wheels and tires that may have been damaged.
Subaru dealerships will need to replace all four Ascent tires, and as seen in the photo, technicians will drill a hole in the sidewall of each tire to ensure the tires can never be used again.
Subaru opened an investigation in February after a technician discovered a break in a 20-inch tire sidewall.
Subaru's engineers determined the tire bead was being over stressed during the tire/wheel mounting process.
Further investigation found the bead guide arm on a piece of tire mounting equipment had been out of alignment from December 5, 2022, to January 10, 2023.
The 2023 Subaru Ascent vehicles with 20-inch wheels were built between December 1, 2022, and January 5, 2023.
Subaru is aware of 10 technical reports in the U.S. between February 17, 2023, and March 31, 2023, but no reports of crashes or injuries.
Subaru Ascent tire recall letters will be mailed June 6, 2023.
Subaru Ascent owners may call 844-373-6614 and ask about recall number WRH-23.