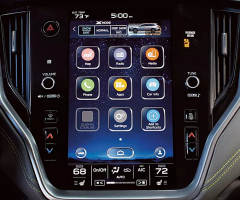 — Subaru infotainment system problems have caused a class action lawsuit that alleges the Starlink head units fail and leave drivers without important features.
According to the lawsuit, the infotainment system problems cause Starlink head units to freeze and become unresponsive in these Subaru vehicles.
2019-2023 Subaru Outback
2019-2023 Subaru Legacy
2019-2023 Subaru Forester
2019-2023 Subaru WRX
The Starlink infotainment systems allegedly suddenly shut off, restart, suffer from so-called phantom inputs and can fail without warning. The Subaru systems also allegedly cause drivers to become distracted, presenting a serious safety risk while driving.
The class action lawsuit describes Starlink as a "touchscreen multimedia and video interface," which is another name for an infotainment system.
Various functions are operated by and through the Starlink systems, including "the visual for the backup camera, controls for the audio and radio system, cell phone connectivity, weather information, the navigation system, and more."
In addition to the infotainment system problem of rebooting and other malfunctions, the lawsuit alleges a feature called EyeSight can fail.
Subaru says EyeSight "scan[s] the road for unanticipated dangers," "monitors traffic movement, optimizes cruise control, and warns you if you sway outside your lane." EyeSight also, "appl[ies] full braking force in emergency situations, helping you avoid or reduce frontal impacts."
According to the four plaintiffs who sued, the Subaru infotainment system problems can only be fixed by replacing the display screen. The lawsuit alleges replacement Starlink head units fail because they are as defective as the originals.
But when the Subaru vehicles suffer infotainment system problems and technicians inspect the Starlink systems, repairs and software updates allegedly fail to repair the problems.
The class action further alleges Subaru knows about the infotainment system problems because the automaker settled a previous Starlink class action lawsuit. That infotainment system class action lawsuit, Udeen v. Subaru, was settled for owners of 2017-2018 Subaru vehicles.
This new class action picks up where the previous lawsuit left off, with this newest class action targeting 2019-2023 models.
However, the Starlink head units involved in the previous class action were manufactured by Harman. Subaru switched to Starlink head units built by Denso, but these four plaintiffs allege the Denso Starlink head units are just as defective as the earlier Harman infotainment systems.
Marco Cilluffo / New Hampshire / 2021 Subaru WRX
Jeffrey Quarles / Washington / 2019 Subaru Forester
Pamela Doze / Arizona / 2022 Subaru Outback
Carl Jean-Louis / New York / 2019 Subaru WRX
The Subaru Starlink infotainment system class action lawsuit was filed in the U.S. District Court for the District of New Jersey: Cilluffo, et al., v. Subaru of America, Inc., et al.
The plaintiffs are represented by Ahdoot & Wolfson, PC.