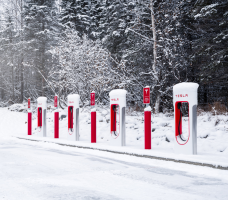 — Tesla battery range in cold weather can allegedly drop 50% and leave drivers with less range than advertised.
That's the allegation from the South Korea Fair Trade Commission which fined Tesla more than $2 million (2.8 billion won) for false advertising.
According to the Korean FTC, Tesla exaggerated not only the battery and driving range, but also the charging speed of the electric vehicles in cold weather.
The FTC said Tesla's advertised driving distance is only possible "under an average temperature and in downtown areas. Under other conditions, the distance is shorter. The actual range fell up to 50.5 percent under colder temperatures."
Tesla had already changed the wording on its Korean website regarding driving range estimates when Korean regulators said the automaker exaggerated the battery range.
As an example, the South Korean Tesla website originally said the Model 3 could travel more than 528 kilometres (328 miles) on a single battery charge. Now the Model 3 says the car can travel a maximum of 528 kilometres on a single charge.
Korean regulators also noted how in 2019 Tesla advertised the charging capabilities of its V3 supercharger even though Tesla didn't install those chargers until March 2021.
"Without mentioning types and test conditions, (Tesla) advertised that its superchargers can charge automobiles enough to run hundreds of kilometers in 15 or 30 minutes. The test result was based on optimized conditions with high charging efficiency." — Korean FTC
The Korean FTC also found problems with Tesla's business practices and fined the automaker another $786 (1 million won). The penalty was laid on Tesla because the automaker allegedly forced customers to make phone calls to cancel orders instead of allowing customers to cancel online.
In addition, customers who did cancel were not refunded about 100,000 won ($78) that Tesla kept as a commission.