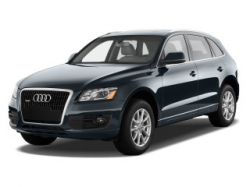 — The National Highway Traffic Safety Administration (NHTSA) announced that Volkswagen will recall certain 2012 Audi Q5's because the sunroofs could explode.
The recall comes after Audi owners reported their sunroofs suddenly turned into thousands of little razor blades, sometimes with passengers inside the vehicle.
"Today when I got into my Q5 with my two small children, shards of broken glass rained down on us when I closed the front door," said Jeannine, of Brooklyn, NY. "I looked up to find the front of the sunroof completely shattered."
Jeannine's sunroof shattered in the cold New York temperatures of January, which isn't surprising because the NHTSA said the glass panel is especially susceptible in cold weather.
The affected vehicles were manufactured from June 21, 2011, through December 9, 2011. The recall is expected to begin on August 7, 2012. Dealers will replace the front sunroof glass panel for free.