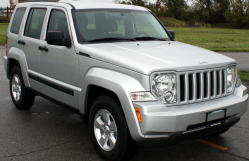 — Chrysler Group LLC has announced they will stop manufacturing their Jeep Liberty on August 16, right in the middle of two open investigations by the National Highway Traffic Safety Administration.
Chrysler said the Ohio plant is currently undergoing a complete overall in preparation of hiring over 1000 new people to build a new SUV.
In November, Chrysler announced it will invest $1.7 billion in the Toledo plant and add a second shift of workers. Chrysler expects to have the plant operating in 2013 to build a new SUV based on the Alfa Romeo Giulietta.
Chrysler has been under fire this year for allegations of serious problems in the Jeep Liberty.
In January, the government opened an investigation into the Jeep Liberty after 87 reports of air bags that deployed even though no crash occurred.
Over half the complaints allege both the driver and passenger frontal air bags deployed without a crash. The remaining complaints say the driver air bag alone deployed.
Injuries consists of burns, cuts and bruises to the upper body.
In June, the feds expanded an investigation into rear-impact fires in model year 2002-2007 Jeep Liberties along with 1993-2004 Jeep Grand Cherokees and 1993-2001 Jeep Cherokees.
Chrysler released a statement saying the fire risk was no greater than in any other peer vehicle.
The Jeep Liberty also took a hit earlier this month when Consumer Reports named it one of its five most popular vehicles to avoid.
According to Consumer Reports, the Liberty earned one of the lowest road-test scores of any vehicle they tested.
If that isn't enough, owners have complained for years about broken window regulators on model years 2004, 2005, 2006 and 2007 Jeep Liberty.