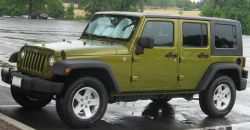 — A month after two California Democrats asked Chrysler to begin a customer outreach campaign about what the legislators call the "Jeep death wobble," Chrysler released a technical service bulletin to dealers and various websites.
However, Chrysler still believes the problem is caused by aftermarket products or poorly maintained vehicles.
The "death wobble" is a term that drivers use to describe what happens when the front-end begins to wobble and shake out of control.
A good example is what happened to April, of Frackville, PA.
"What I experience when I hit a bump going about 50 is a violent shaking in the front end of my jeep to the point that I have to slow down to almost 20 mph to get it under control," April told CarComplaints.com.
After hundreds of complaints to the National Highway Traffic Safety Administration, the government refused to investigate the issue even though many complaints came from drivers who said they hadn't installed aftermarket parts.
According to the bulletin released by Chrysler, any vehicle with a solid front axle can experience steering system vibration if the system is damaged or not properly maintained.
Chrysler provided the following recommendations to dealers and owners.
1. If the vehicle has been modified in any way, contact the aftermarket equipment manufacturer for repair suggestions.
2. Check the air pressure in the tires and inspect the tires for signs of unusual or uneven wear, cupping or other damage.
3. Ensure that the tires/wheels are balanced within specification.
4. Inspect the steering damper for excessive wear or damage.
5. Inspect the track bar for excessive wear or damage.
6. Inspect the tie rods for excessive wear or damage.
7. Inspect the drag link for excessive wear or damage.
8. Inspect the ball joints for excessive wear or damage.
To read more about the Jeep death wobble and see video examples, click here.