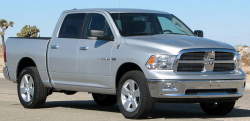 — The National Highway Traffic Safety Administration has opened a preliminary evaluation of rear-end failures in model year 2009-2010 Dodge Ram 1500 trucks.
The Office of Defects Investigation has received 12 complaints alleging rear differential failures resulting in the rear-end locking up.
CarComplaints.com has received numerous complaints from Dodge Ram 1500 drivers about the same problem.
"One year old truck, driving in stop and go traffic and the truck shudders and the drive train shears from the rear axle locking it," wrote Matt, of Camarillo, Calif. "Hope this is a fluke. Did I pay cash and get a clunker?"
Unfortunately, it appears it wasn't a fluke. The government says Dodge Ram 1500 drivers allege their truck rear-end failures occurred at various speeds, with eight of the incidents above 35 mph.
One Canadian Dodge Ram 1500 owner told CarComplaints.com the rear-end locked while he was driving at highway speed on Interstate 5 to Seattle. His truck was stuck in the middle of the highway for two hours with 10 miles of traffic waiting behind him.
Four of the complaints to the government involving higher speed incidents allege the failure caused the truck to lose control, including one crash into a concrete barrier. Another complaint said the drive shaft broke loose and punctured the gas tank.
The preliminary evaluation opened by the feds could be expanded to a recall, based on the findings of the evaluation.