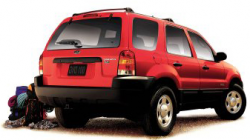 — The National Highway Traffic Safety Administration has opened a preliminary evaluation of certain 2001-2004 Ford Escape and Mazda Tribute vehicles due to complaints of a sticky throttle.
The NHTSA has been monitoring the problem after receiving 99 complaints alleging throttles failing to return to the idle position after the driver removed their foot from the gas pedal.
Sixty-eight complaints came from Ford Escape owners and 31 complaints from Mazda Tribute drivers.
The Office of Defects Investigation (ODI) said some of the complaints claim the problem was caused by interference between the speed control cable and the appearance cover at the throttle body cam.
Other complaints allege that problems may have been related to repairs performed as part of safety recalls initiated in 2004.
In a December 6, 2004 letter, Ford submitted a defect information report to the government describing an accelerator cable assembly defect that could cause a stuck throttle risk in approximately 470,245 model year 2002 through 2004 Ford Escapes built with 3.0L V6 engines.
In a December 9, 2004 letter, Mazda submitted a report concerning the same defect condition affecting approximately 121,000 model year 2002 through 2004 Mazda Tribute vehicles built with 3.0L V6 engines.
In December, 2004, Ford sent letters to dealers with the repair instructions and service procedures for an official recall.
In October, 2005, Ford sent dealers an updated repair procedure with updated illustrations and a warning to help prevent damage to the speed control cable while performing the accelerator cable replacement procedure. Mazda sent its dealer letters in January, 2005, but did not send an update.
The Center for Auto Safety, a nonprofit auto safety group, recently petitioned the government to open defect investigations on Ford Escapes and Mazda Tributes concerning the same problems, including whether the automakers properly notified owners of the issues.
Although the government has opened the current evaluation of the vehicles, the petitions filed by The Center for Auto Safety were denied as unnecessary.