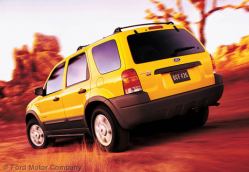 — Ford is recalling over 420,000 model year 2001-2004 Escape vehicles equipped with 3.0L V6 engines manufactured from October 22, 1999, through January 23, 2004.
Lack of clearance between the engine cover and the speed control cable connector could result in a stuck throttle when the accelerator pedal is fully or almost-fully depressed.
The risk is there regardless of whether or not cruise control is used.
The recall comes after The Center for Auto Safety, a nonprofit safety group, petitioned the government to open an investigation into sticky throttles in the Escape.
On July 17, the National Highway Traffic Safety Administration opened a preliminary evaluation of certain 2001-2004 Ford Escapes after receiving 68 complaints of a sticking throttle.
Ford will notify owners and dealers will repair the vehicles free of charge. Ford admits there might be a delay in getting your vehicle properly repaired because of a delay in parts shipments to dealers.
Ford says your dealer will offer a temporary fix by disconnecting the cruise control cable if your dealer doesn't have the required parts in stock at the time of your appointment. In that case, you will need to make another appointment to have the correct parts installed, which should be available in mid-August, 2012.
Owners should contact Ford at 1-866-436-7332.
The past few months have been a disaster for the Ford Escape and its maker.
Ford recently recalled certain 2013 Ford Escape vehicles due to a fire risk over a faulty fuel line.
Additionally, Ford recalled over 300,000 model year 2013 Escapes because of a problem with carpet padding.
Ford this week announced that its second-quarter profit nosedived by 57 percent, mainly due to sales problems in Europe.