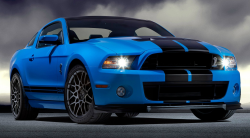 — Most people who buy a car expect it to shift into reverse when needed, but apparently that wasn't the thinking of Ford Motor Co. when they manufactured certain 2011-13 vehicles.
The National Highway Traffic Safety Administration (NHTSA) has announced a recall of over 10,000 Ford vehicles for failing to comply with federal safety standards. The recall involves the 2011-12 Ford F-150, 2012 Ford Expedition, 2012 Lincoln Navigator and the 2012-13 Ford Mustang.
The NHTSA says the transmission may not go into reverse when the driver pushes the shift lever into reverse. It's also possible that when the driver pushes the shift lever into reverse, the "R" may not light up on the dashboard of the F-150, Expedition and Navigator models, even if the vehicle really is in reverse.
On top of that, the backup lamp on the rear of those vehicles, plus the Mustang, may not illuminate at all.
Not a good thing if you want to avoid an accident.
Ford should begin notifying owners June 25, and dealers will inspect and fix the transmission range sensor for free. Owners are encouraged to contact Ford at 1-866-436-7332.