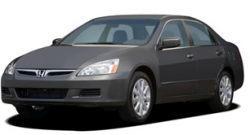 — Honda has expanded an original May, 2012, recall to involve over 573,000 model year 2003-2007 Accord V6 vehicles. The previous recall affected 2007 and 2008 Acura TL vehicles that had potential problems with the power steering hose.
According to Honda, power steering fluid temperatures may cause the power steering hose to leak. Leaking power steering fluid could cause a loss of power steering or even a fire if it leaks onto the catalytic converter. Honda says that no crashes or injuries have been reported, but one engine fire has been reported.
The updated power steering hose necessary to complete final repair of the Accords affected by the expansion will not be available until early 2013. Owners of affected Accords will receive an initial notification by mail informing them of the problem and symptoms potentially related to a power steering hose leak.
If an owner believes their Accord is having symptoms, they should take their vehicle to a Honda dealer for inspection and, if necessary, temporary repair. When the updated power steering hoses are available in early 2013, Accord owners will receive a second mailed notification with instructions for a dealer to make the final repair.
Owners will be able to determine if their vehicles are included in the recall by going to www.recalls.honda.com or by calling 800-999-1009, and selecting option 4.