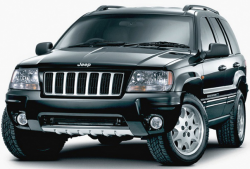 — In what could lead to one of the biggest recalls in history, the National Highway Traffic Safety Administration (NHTSA) has announced they are expanding their investigation into rear-impact fires in 1993-2004 Jeep Grand Cherokee, 1993-2001 Jeep Cherokee, and 2002-2007 Jeep Liberty vehicles.
The agency has decided to upgrade its safety defect investigation which includes all areas of the rear fuel system, including the gas tank.
The plastic gas tank is located at the rear of the vehicle between the bumper and axle.
According to the NHTSA, rear-impact-related gas tank failures and vehicle fires are more common in the Grand Cherokee than in the similar non-Jeep vehicles such as the Chevrolet Blazer, Ford Explorer, and Toyota 4Runner. The agency believes at least 24 rear-end collisions have resulted in fires, some deadly.
One grieving mother told CarComplaints.com that she lost her beautiful 32-year-old daughter in a 2004 Jeep Liberty fire.
"She was rear-ended on Interstate-10 by a man driving a Ford F-150 pick-up truck. The vehicle she was driving, a 2004 Jeep Liberty, burst into flames upon impact and my daughter was burned to death," said Harriot, of Metairie, Louisana. "Since my daughter's death, I have learned that this same thing has happened before and Chrysler has had numerous law suits that were settled out of court."
Harriet went on to describe the same problem the NHTSA is investigating, mainly the location of the gas tank.
"The fuel tank and filler neck on the Jeep Liberty (and Jeep Grand Cherokee) was designed and installed in a location (behind the rear bumper) that is susceptible to rupture or puncture in a rear-end collision," Harriet said. "When gasoline escapes from a ruptured or punctured fuel tank, a high risk of fire and explosion exists."
The Center for Auto Safety, which initially petitioned the government for an investigation, said that children as young as four years old have been burned to death after a rear-end collision.
According to the Center for Auto Safety, four-year-old Cassidy Jarmon was killed when the 1993 Jeep Grand Cherokee driven by her mother was struck from behind and burst into flames. In another tragedy, four-year-old Remington Cole Walden was killed despite riding in a child booster seat to protect him when the 1999 Jeep Grand Cherokee driven by his aunt was struck from behind and engulfed in flames.
Although no recall has been announced, the current investigation applies to over 5 million Jeep models.
Chrysler Group said in a prepared statement they are cooperating fully with the NHTSA regarding an investigation.
Additionally, the automaker said, "Chrysler Group has concluded that 1993-2004 Jeep Grand Cherokee vehicles are neither defective nor do their fuel systems pose an unreasonable risk to motor vehicle safety in rear impact collisions. We would expect that a similar analysis of subject vehicles recently added to this investigation would support a similar conclusion."
That sentiment, however, was not shared by Harriet, who lost her daughter in a Jeep fire.
"I feel an obligation to warn everyone of the potential danger when driving these vehicles," said Harriet. "The public has a right to know BEFORE they purchase these vehicles. I wish someone would have warned me."