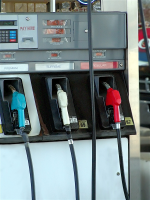 — The days when new-car buyers leaned toward larger vehicles might be coming to an end, that according to a new study from J.D. Power and Associates.
According to the Automotive Performance, Execution and Layout (APEAL) study, today's smaller vehicles can be more appealing than the larger vehicles they replaced.
In 2012, the average APEAL study score for vehicles in the compact/sub-compact segment is 765 points (out of 1000) which is the same as the average for mid vehicles in the study just four years ago.
Similarly, the average score for vehicles in the mid premium segment is 844, the same as the average for large premium vehicles four years ago.
The study found that 27 percent of new-vehicle buyers purchased a smaller vehicle than the vehicle they replaced. In contrast, only 13 percent of buyers purchased a larger vehicle than the one they were replacing.
"New-vehicle buyers who down are not making the sacrifice that they once were," said David Sargent, vice president of global automotive at J.D. Power and Associates. "Automakers are heavily focused on providing the U.S. market with appealing smaller models, and buyers may be surprised at just how good some of them are."
The downsizing trend also has an impact on owner satisfaction with the fuel economy of their new vehicle.
While overall vehicle appeal continues to improve, increasing seven points year over year, the greatest improvement is in fuel economy.
Furthermore, 47% of owners say gas mileage was one of the most important factors in their purchase decision.
J.D. Power awarded Chevrolet the highest number of segment awards of all brands included in the study for the Chevy Sonic, Volt and Avalanche models.
The Audi A8 scored the highest of any model in the industry in 2012.