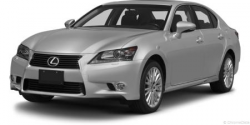 — Lexus today filed a Defect Information Report with the National Highway Traffic Safety Administration indicating it will conduct a voluntary safety recall of early 2013 model year GS 350 F Sport Rear Wheel Drive vehicles to update the variable gear ratio steering electronic control unit calibration.
The recall involves about 650 of the luxury 3.5-liter 6-cylinder vehicles.
Lexus says the electronic control unit could cause the steering wheel to become off-centered when restarting the vehicle immediately after the vehicle is parked with the steering wheel turned.
Dealers will perform the update at no charge to the vehicle owner. Lexus says the repair should take about 30 minutes.
Lexus said owners of the involved vehicles will receive a safety recall notification by first-class mail beginning in early June 2012.