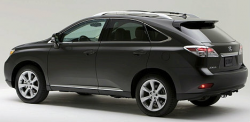 — Toyota today announced they were recalling over 152,000 Lexus 2010 RX 350 and 450h vehicles over fears the floor mat could cause the accelerator pedal to stick.
Since 2009, Toyota has experienced a nightmare of recalls involving floor mats and gas pedals. This most recent recall covers vehicles manufactured from November, 2008, and September, 2010.
According to government documents, the National Highway Traffic Safety Administration didn't seem too pleased with the initial information provided by Toyota.
The NHTSA told Toyota their defect report didn't include several items of information that are required to be reported, including the chronology of events that were the basis for Toyota's decision to conduct a safety recall in the first place.
The government also said that Toyota failed to include a summary of all warranty claims, field or service reports, and other information, with their dates of receipt.
Lexus will notify owners of the affected vehicles sometimes in early August, 2012. Your dealer will modify or replace the gas pedal and replace any Lexus-made floor mat.
If you have your own floor mat in the vehicle, get it out of there.