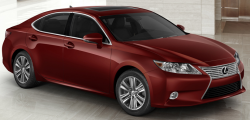 — It's certainly not an official investigation or scientific study, but Consumer Reports says they have accidently discovered the emergency interior trunk escape lever on the 2013 Lexus ES and Lexus GS can easily break off during use. If that happened to a someone in the trunk, they're stuck.
Beginning in 2002, all vehicles with trunks have included a safety release that glows in the dark and allows a trapped person to get out.
Consumer Reports notified the National Highway Traffic Safety Administration about the problem and also let Toyota know.
A representative from Toyota told Consumer Reports, "Upon hearing the information from Consumer Reports, we immediately began investigating the durability and ergonomics of the emergency trunk release lever. This is an active investigation and we cannot provide more details at this time."
Check out the video below: