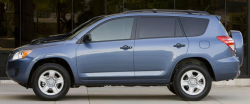 — In June, CarComplaints.com told you the government was investigating rear suspension failures of model year 2006-2008 Toyota RAV4 vehicles.
Owners had reported rear suspension arm assembly failure on both the left and right sides. Four people said the parts broke while they were driving over 35 mph which caused the vehicle to lose control.
Toyota today announced that it will conduct a voluntary recall involving 2006 to early 2011 model year RAV4 and 2010 model year Lexus HS 250h vehicles sold in the U.S.
The recall affects about 760,000 Toyota RAV4 and 18,000 Lexus HS 250h vehicles.
According to Toyota, if the nuts on the rear suspension arm are not tightened according to specification following a rear wheel alignment, excessive play may occur at the threaded portion of the arm.
After time, rust can form. This can cause the threaded portion of the rear suspension arm to separate.
Although the recall has been announced, Toyota doesn't know how to fix the problem yet. Once the remedy is available, Toyota will contact owners by mail. From there you'll need to make an appointment.
Detailed information and answers to questions are available at www.toyota.com/recall and at 800-331-4331. Lexus owners should visit www.lexus.com/recall or call 800-255-3987.