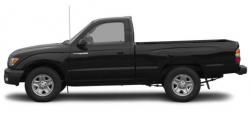 — Toyota today announced they will recall 150,000 Tacoma vehicles originally sold or currently registered in 20 cold climate states and the District of Columbia to inspect and replace the spare tire carrier assembly. The affected vehicles include model years 2001-2004.
The spare tire is stored underneath the rear bed and suspended by a spare tire carrier on a metal lift plate. Toyota said the spare tire carrier lift plate may not have been sufficiently coated with phosphate, which could cause corrosion of the lift plate due to road salt and other conditions.
Corrosion of the lift plate could cause it to break, resulting in the spare tire detaching from the vehicle.
In addition to the District of Columbia, the 20 states are: Connecticut, Delaware, Illinois, Indiana, Kentucky, Maine, Maryland, Massachusetts, Michigan, Minnesota, New Hampshire, New Jersey, New York, Ohio, Pennsylvania, Rhode Island, Virginia, Vermont, Wisconsin and West Virginia.
Owners should receive official notification in December, 2012, or can contact Toyota at 800-331-4331.