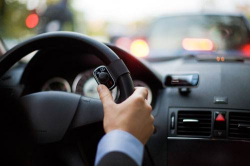 — New car buyers seem to be pleased more than ever with the initial quality of their purchase, except when it comes to in-vehicle technology such as audio, entertainment, and navigation systems.
According to the J.D. Power and Associates 2012 U.S. Initial Quality Study, which is based on evaluations of more than 74,700 new-vehicle buyers and lessees after the first 90 days of ownership, problems with these systems have increased by 8 percent from 2011.
Since 2006, problems with in-vehicle technology have risen by 45 percent.
Researchers said for the first time in the 26-year history of the study, new-vehicle owners report more problems related to audio, entertainment, and navigation systems than in any other vehicle area.
This is due in part to the rapid increase in equipping mass market models with new technology, such as voice recognition. In 2012, more than 80 percent of owners indicate that their new vehicle has some form of hands-free technology.
According to J.D. Power, the number of owner-reported problems with factory-installed hands-free communication devices has climbed 137 percent during the past four years.
The single most-often-cited problem in the industry this year is "hands-free communication-doesn't recognize command."
With America's reliance on technology and our addiction to entertainment, in-vehicle technology complaints are expected to rise as consumers demand that their hands-free devices actually work.