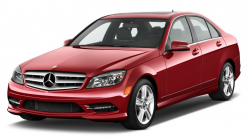 — Following a six-month basic evaluation of rear light problems in 218,000 model year 2008-2009 Mercedes-Benz C-Class cars, the National Highway Traffic Safety Administration has upgraded the evaluation to an engineering analysis.
The expanded investigation now includes 252,867 model year 2008-2011 Mercedes Benz C-Class cars that can experience over-heating of the ground wire caused by corrosion between the connectors in the ground circuit to the tail light.
The government initially received 21 reports of rear light assembly failure due to a melted electrical connector or housing. Since opening the investigation, the complaints now total 114, a trend that isn't likely to decrease.
Every complaint says one or both rear light assemblies fail completely, including the stop, tail, and turn signal lights. Five complaints allege the problem caused fires, with one person suffering an injury. The problem seems to get worse as the cars age.
There's a good chance that 252,000 C-Class cars will be recalled, but all that will depend on what the government finds during the engineering analysis.