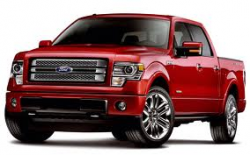 — The National Highway Traffic Safety Administration is investigating the possibility that 400,000 Ford F-150 trucks have serious engine problems when the weather is hot and humid.
According to the federal Office of Defects Investigation, 95 complaints have been filed about model year 2011-2013 Ford F-150 trucks equipped with 3.5L gasoline turbocharged direct injection engines.
Hot and Humid Weather is Turning These Trucks Into Glorified Scooters
F-150 owners allege the engine loses power when trying to accelerate, especially when trying to pass another vehicle or merge into traffic.
One driver of a 2011 F-150 told CarComplaints.com their truck experienced the problem four times when the weather was hot and humid.
"On two occasions accelerating to merge to the interstate and two other occasions changing lanes to pass another vehicle the motor almost stalled," said the Hudson, Florida, F-150 owner. "I was lucky as oncoming vehicles used their brakes to avoid a collision otherwise my vehicle would have been struck in the rear."
When the engine lost power, the driver reacted as most of us would by pushing the gas pedal to the floor. However, the only thing that did was make the problem worse.
"The solution was to let-up on the gas and accelerate slowly to to a proper speed."
How Much Does Ford Know?
It's a problem Ford knows about. They have issued three technical service bulletins related to the issue.
One bulletin specifically gives dealers procedures for diagnosing a condition related to moisture accumulation in the charge air cooler (CAC) and repairing the condition by reprogramming the powertrain control module. Ford dealers also were told to install a new CAC and air deflector plate.
Ford F-150 owners want to know why they weren't informed of the problem and solution.
The federal investigation will determine if a recall of 400,000 trucks should be ordered.