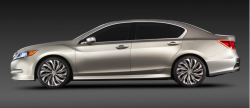 — Acura is recalling over 26,000 MDX and RLX cars because bolts that shouldn't come loose could detach from the cars. The largest recall involves over 19,000 model year 2014 Acura MDX all-wheel-drive cars with bolts that could come loose from the propeller shaft.
Acura says it's possible the assembly process didn't go as planned and could lead to a bolt (or two) coming loose from the propeller shaft where it attaches to the universal joint. If a bolt falls out, you can expect a lot of noise and probably damage to the vehicle.
Acura says there have been no reports of accidents or injuries.
The second recall affects over 7,300 model year 2014 Acura RLX cars with rear suspension bolts that might not have been properly tightened during assembly.
Acura says up to eight bolts could be affected. Just one bolt that comes loose could cause a portion of the rear suspension to move out of alignment. That would be serious trouble if it happened on the road, although Acura says no accidents or injuries have been reported.
Both recalls are expected to begin by January, 2014.
If you're an owner and have questions, contact Acura at 800-382-2238 and select option 4.