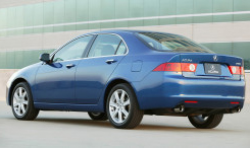 — Honda/Acura is recalling about 76,000 model-year 2004-2008 TSX sedans originally sold in, or currently registered in, Connecticut, Delaware, Illinois, Indiana, Iowa, Kentucky, Maine, Maryland, Massachusetts, Michigan, Minnesota, Missouri, New Hampshire, New Jersey, New York, Ohio, Pennsylvania, Rhode Island, Vermont, Virginia, West Virginia, Wisconsin and the District of Columbia.
Acura says it's possible that road salt or water from drivers' shoes could saturate the carpet under the dashboard. There is a metal case under the carpet that holds the control unit, and if corrosion forms on the case, the electronic control unit could be damaged.
Damage to the control unit can easily cause the car to stall. Although a stalled vehicle could cause serious problems in the middle of a highway, there have been no reports of crashes or injuries so far.
One Acura TSX owner told CarComplaints.com that this issue has cost a lot of money, and time. After spending $1200 to fix the problem, it occurred again a year later.
"I was driving home through my neighborhood and suddenly lost all power to the dashboard and radio/center console area then came back on half a second later, without stalling out the car," said the driver from Syracuse, NY. "I was about 1.5 miles from home and the same thing happened to my car 3 more times before I was able to get home."
After finding a water-saturated carpet and electronic control unit, a dealer asked for another $927.13 to get the vehicle going again.
Acura will notify TSX owners in April, 2013, and a dealer will install a water resistant cover over the control unit.
Once Acura begins contacting customers, any TSX owner can determine if their vehicle requires repair by going to www.recalls.acura.com or by calling 800-382-2238. Refer to recall number S86.