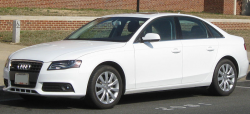 — As first reported by the New York Times, a federal judge has given the go-ahead to a class-action lawsuit settlement about transmission problems in certain 2002-2006 Audi A4 and A6.
The lawsuit was originally filed in early 2011 after complaints about transmission problems in A4 and A6 models with a continuously variable automatic transmission.
The suit claimed the transmissions were built wrong in the factory and that Audi knew the problems existed but didn't do a thing about it.