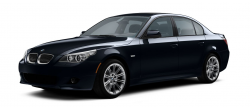 — BMW is recalling over 134,000 model year 2008 through 2010 528i, 535i, 550i, and M5 cars because of rear light problems.
Since 2008, BMW has received reports of problems with the tail, brake, turn-signal, and reverse lights. Owners say the lights don't work all the time or can go completely out.
BMW believes increased resistance at the tail light electrical contact points can damage the ground terminal and housing of the connector.
The affected cars were manufactured from March 1, 2007, through December 31, 2009.
After years of testing, BMW decided a redesigned bulb carrier with an integrated secondary ground cable should fix the problem.
BMW dealers will replace the rear bulb carriers once the recall is underway. That should begin in October, 2013.
Owners who have been left in the dark with disappearing tail lights can contact BMW at 800-525-7417.