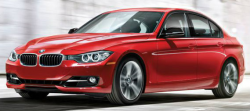 — U.S. safety regulators have opened an investigation into possible braking problems in the 2013 BMW 328i.
Based on reports filed with the National Highway Traffic Safety Administration, owners say the brake pedal doesn't feel right and can be difficult to depress. Reports also suggest it takes longer to stop the vehicle than normal.
"I purchased a new 2013 BMW 328i in late May. Within a week of ownership the brakes failed. The car was towed to a dealership and was there for three days. Then less than a month later, last week, the brakes failed again. I almost got in a bad accident and in fact did scrape the curb."
This BMW owner, as with others, said the dealership diagnosed the vacuum pump as the cause of the problem.
Investigators will try to determine if an estimated 90,000 cars should be recalled.
CarComplaints.com will keep you posted on any further developments.