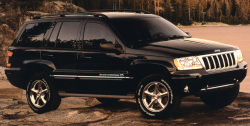 — Should millions of Chrysler/Jeep vehicles be recalled because people are dying in rear-crash fires? The Center for Auto Safety (CAS) thinks so.
CAS, a nonprofit automotive consumer advocacy group, wants a recall of millions of model year 1993-2004 Jeep Grand Cherokee, 1993-2001 Jeep Cherokee and 2002-2007 Jeep Liberty vehicles.
Poor Design Exposes a Serious Safety Issue
According to CAS, people in those vehicles are at severe risk of serious injury or death in a rear-impact crash because of the location of the fuel system and tank.
Based on research by CAS, 478 people have died in 349 fatal fire crashes because the fuel system is located behind the rear axle. However, CAS says the problem was fixed when Chrysler moved the fuel tanks in the Jeep Grand Cherokee in 2005 and the Jeep Liberty in 2008.
An Ongoing Investigation
The National Highway Traffic Safety Administration (NHTSA) opened an investigation into the issue in June, 2012. NHTSA said the probe involves all areas of the rear fuel system, including the gas tank. The investigation is ongoing.
According to NHTSA and CAS, vehicle fires are more common in the Grand Cherokee than in the similar non-Jeep vehicles such as the Chevrolet Blazer, Ford Explorer, and Toyota 4Runner.
CAS believes the Grand Cherokee is 27 times more likely than the Explorer to be involved in a fatal rear-impact fire crash with death due to fire.
Chrysler Denies the Problem ... Shocking!
Chrysler says the issue is a non-issue because the vehicles met federal safety standards.
The Center for Auto Safety says that's like saying the Ford Pinto met federal safety standards even when the Pinto was bursting into flames from rear-end collisions.
If the government does order a recall, the number of affected vehicles could top 5 million.