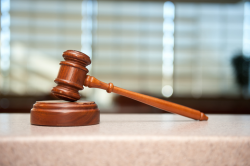 — Ford Motor Company is the target of a class-action lawsuit that includes Ford owners in 14 states, but could easily grow to cover the entire country.
The lawsuit was filed in a Huntington, West Virginia, federal court claiming the affected Ford vehicles are prone to sudden acceleration because they don't have a brake override system.
The suit alleges the electronic throttle system can cause a vehicle to take off on its own, leaving the driver in a panic. Further, the suit points out that Ford added a brake override system in vehicles starting in 2010, but did nothing to fix the alleged problems in earlier models.
As with the recent $1.1 billion Toyota settlement over unintended acceleration issues, the Ford lawsuit is focused on how the problem affects the financial value of a vehicle.
The plaintiffs contend that Ford knew the defect was there but hid it from the buying public.
In essence, Ford owners claim they paid too much for vehicles with known problems and if Ford would have informed the public of the issue, many owners wouldn't have purchased the vehicles in the first place.
Ford Vehicles Listed in Lawsuit
Lincoln Vehicles Listed in Lawsuit
Mercury Vehicles Listed in Lawsuit