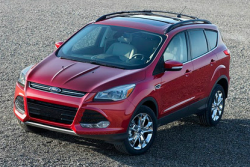 — Owners of the 2013 Ford Escape equipped with the 1.6L EcoBoost engine must be getting tired of hearing this, but Ford is recalling about 150,000 of those SUVs because they potentially could catch on fire.
Ford is recalling 9,500 Escapes because a previous recall might not have fixed the problem. The affected vehicles were manufactured from October 5, 2011, through July 11, 2012.
Ford says the engine compartment fuel line may have been installed incorrectly when repaired under the prior recall. The placement of the fuel line could cause irritation to the line and cause it to leak.
To put it in the words of the National Highway Traffic Safety Administration, "A fuel leak in the presence of an ignition source may result in a fire."
All affected vehicles, regardless of being "fixed" under the earlier recall, will require an inspection and another "fix".
Additionally, about 140,000 Escapes are recalled because oil could leak from cracks caused by an overheated engine cylinder head. Leaking oil mixed with a hot engine is not a good combination.
Ford says the affected vehicles were manufactured October 5, 2011, through June 2, 2013, and even if you had your Escape "repaired" under the previous recall, you'll need to take the vehicle back to the dealer.
Dealers will modify the engine shielding, cooling and control systems.
Both recalls should begin by January 23, 2014. If you're tired of your 1.6L Escape needing to be recalled after already being recalled, contact Ford at 866-436-7332 and give them recall number 13S12.