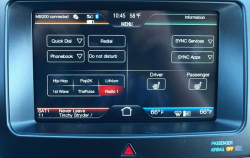 — Owners of vehicles with the MyFord Touch system have long complained how difficult it is to do a simple update of the system.
The system, introduced by Ford in 2011, was meant to provide the ability to operate audio controls, use a GPS system, control climate systems and operate a Bluetooth-enabled device.
Based on consumer complaints, as well as complaints about MyLincoln Touch and MyMercury Touch, Ford is on the receiving end of a proposed class-action lawsuit filed in a California court. The lawsuit claims the system is a safety hazard because it often fails and can cause serious problems with the defroster and rear-view camera.
The suit also says the GPS navigation system is a mess because the screen will turn off and turn back on with a message saying it is performing scheduled maintenance.
MyFord Touch users have told CarComplaints.com of similar alleged problems with their own systems.
"Not fair to sell an system that is full of problems and requires multiple visits to dealer! Awful!" said Cheryl, of Cranberry Township, Pennsylvania.
"Weather map has to have master reset every day. What is the fix?" asked Steve, of Oklahoma City, Oklahoma.
The 41-page legal complaint claims Ford knows of the problems, having issued several technical service bulletins and software updates.
"In theory, MyFord Touch is a brilliant idea and worth the premium that Ford charged its customers for the system," plaintiffs' lawyer Steve Berman of Hagens Berman Sobol Shapiro said in a statement. "In reality, the system is fundamentally flawed, failing to reliably provide functionality, amounting to an inconvenience at best, and a serious safety issue at worst."