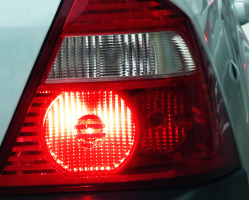 — Following an investigation into weird-acting brake lights in model year 2005-2009 Pontiac G6 vehicles, the National Highway Traffic Safety Administration is now investigating two other General Motors models for similar problems.
According to the Associated Press, complaints about the 2004-2011 Chevrolet Malibu and the 2007-2009 Saturn Aura are pouring in about brake lights that don't work, or work when they shouldn't.
The Office of Defects Investigation last month opened an investigation into 2005-2009 Pontiac G6 vehicles after receiving 212 complaints about brake light and cruise control problems.
This followed a 2009 recall of about 8,000 model year 2005 Pontiac G6 vehicles for the same problem.
According to the AP, the G6, Malibu, and Aura share many of the same parts, but GM spokesmen weren't sure if the brake lights are the same.
GM dealers fixed the affected vehicles during the 2009 recall by putting lubricant on a connector to prevent corrosion. The government said that GM dealers received the same instructions in 2010 for repairs on the brake lights of the Mailbu and Aura.
GM sold more than 1.5 million Malibus and Auras from 2004 through 2011, but it doesn't necessarily mean that many vehicles are included in this investigation.
Related Reading: