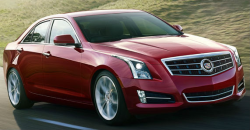 — General Motors is recalling over 1,600 model year 2013 Cadillac ATS, Cadillac XTS, and 2014 Chevrolet Impala vehicles because the brake lights might flash when they shouldn't.
Add to that the cruise control feature could disengage when the brake lights malfunction.
The recall should be underway. GM dealers will reprogram the body control module at no charge.
You can contact Chevrolet at 800-630-2438 or Cadillac at 866-982-2339. GM's recall number is 13158.