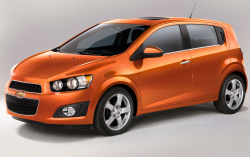 — General Motors is recalling over 1,600 model year 2013-2014 Chevy Sonics after finding a problem with the parts that hold the gas tank in place.
GM said the weld that holds the gas tank strap could break. The tank could separate and land on the exhaust pipe or possibly cause a rupture of the tank. Any fuel near an ignition source would be nothing but trouble.
GM said they are unaware of that happening and no accidents or injuries have been reported.
Dealers will replace the straps, if needed.
However, there is no indication of when that will happen because the National Highway Traffic Safety Administration is closed due to the government shutdown.