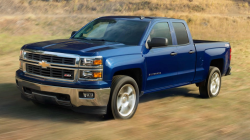 — General Motors hasn't wasted time recalling 843 vehicles because of air bag problems. Model year 2014 GMC Sierra and Chevy Silverado trucks have been recalled because the passenger air bag might not inflate in a crash.
GM hasn't said much about the recall but did say that most of the trucks haven't been sold yet. For those that have, GM will contact each owner to schedule a repair visit with a dealer.
Although a faulty air bag is a dangerous situation, GM said they don't know of any crashes or injuries related to the problem.
Owners of the 2014 GMC Sierra and Chevy Silverado can contact General Motors at 866-694-6546.