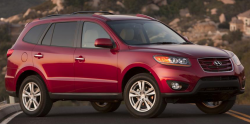 — Hyundai is recalling over 1 million vehicles because of brake switch problems, the exact same problem that caused Kia to recall over 623,000 vehicles.
Hyundai listed the recalled vehicles as the 2007-2009 Accent and Tucson, 2007-2010 Elantra, 2007-2011 Santa Fe, 2008-2009 Veracruz, 2010-2011 Genesis Coupe, and the 2011 Sonata.
The problem is the brake light switch that can malfunction and cause all kinds of problems, including the brake lights to stop working when you need them.
With a bad switch, you could hit the brake pedal to disengage the cruise control, but it might not work. Hyundai says the ability to use the push-button start might be affected, as well as the inability to move the shifter into drive, reverse, or any other gear.
You might also see the electronic stability control light kick on when it shouldn't.
The recall will start by June, 2013. Before then, you can contact Hyundai at 800-633-5151 and refer to recall number 110.
Speaking of the Hyundai Elantra, the 2013 model year was recalled today because of the risk of serious injury from a bracket that could come loose during an air bag deployment.