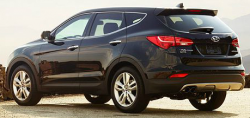 — Hyundai is recalling 259,000 vehicles for problems ranging from steering issues to busted axle shafts. The affected models include the 2013 Santa Fe Sport, model year 2006-2010 Sonata, and the 2006-2011 Azera.
Most of the recalled vehicles include 239,000 Sonatas, manufactured March 1, 2005, through January 21, 2010, and the Azera, manufactured September 27, 2005, through November 22, 2010.
The affected vehicles were originally sold in, or currently registered in, Connecticut, Delaware, Illinois, Indiana, Iowa, Maine, Maryland, Massachusetts, Michigan, Minnesota, Missouri, New Hampshire, New Jersey, New York, Ohio, Pennsylvania, Rhode Island, Vermont, West Virginia, Wisconsin and the District of Columbia.
Hyundai says road salt and water can enter portions of the rear cross-member, leading to corrosion of the steel. This can cause one of the rear control arms to detach and be a total pain to control the vehicle.
The Sonata/Azera recall should start by the end of September, 2013. Dealers will repair or replace the cross-member assembly.
Owners can contact Hyundai at 734-337-9499 and refer to recall number 113.
2013 Hyundai Santa Fe Sport
The rest of the recalled vehicles include over 20,000 model year 2013 Santa Fe Sport vehicles equipped with 2.4 liter engines.
The vehicles were manufactured July 13, 2012, through March 12, 2013.
Hyundai says the right front axle shaft may break because of a problem during manufacturing. If the axle shaft does break you could lose all power to the wheels, or the vehicle could roll away when parked.
The recall is expected to begin in August, 2013.
Owners can contact Hyundai at 800-633-5151 and give them Santa Fe Sport recall number 112.