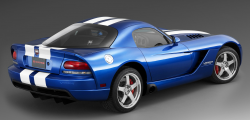 — The National Highway Traffic Safety Administration (NHTSA) is closing its investigation into 10,000 Dodge Viper cars for rear suspension problems. The investigation was opened in April, 2013, after complaints that alleged suspension knuckle failure in model year 2005-2006 Vipers caused the cars to crash.
Based on its review of physical evidence from field inspections of 6 of the 8 incident vehicles, Chrysler concluded that collision forces caused the knuckle failure, not a defect in the part itself.
NHTSA's Vehicle Research and Testing Center in Ohio submitted a part to a laboratory for fracture surface and metallurgical analysis. The analysis concluded that there was no evidence of fatigue in the part and that the fracture was due to a single overload event of a crash.
Examination and testing of failed knuckles have not identified evidence of a manufacturing or design defect in the parts, hence there will not be a recall of the cars.
The agency will continue to monitor complaints and other information relating to the alleged defect in the subject vehicles and take further action if needed.