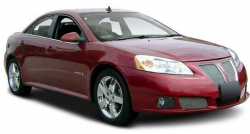 — The National Highway Traffic Safety Administration has expanded its investigation into brake light problems in model year 2005-2008 Pontiac G6 cars.
Safety regulators want to know if 550,000 vehicles could be at risk of brake lights that come on when they shouldn't, and don't work when they should. In addition, complaints allege problems with the gear shifter and cruise control.
The feds originally opened a "recall query" in February of this year after receiving 314 complaints about the alleged problem. On top of that, General Motors submitted a "significant number" of warranty claims and over 1,100 reports about the problems.
The current investigation could lead to a recall of 550,000 vehicles if investigators find enough evidence of a problem.