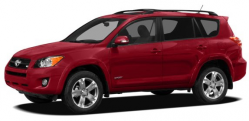 — J.D. Power and Associates released the results of their 24th annual Vehicle Dependability Study, which measures problems that owners experienced with three-year-old vehicles over the past 12 months. Vehicles ranked in this year's study are all from the 2010 model year.
The study is based on responses from roughly 37,000 original owners, with overall dependability determined by the number of problems experienced per 100 vehicles.
Who Ranked Highest
Lexus ranked highest in vehicle dependability among all nameplates for a second consecutive year. The Lexus RX has the fewest reported problems in the industry, which makes the first time that a crossover or SUV has achieved that distinction.
Rounding out the five highest-ranked nameplates are Porsche, Lincoln, Toyota and Mercedes-Benz.
Now For the Worst. Drum Roll Please ....
The worst-ranked brands are Land Rover, Dodge, Mitsubishi, Jeep, Volkswagen & Jaguar. Chrysler was ranked 2nd worst in the 2012 study, but improved slightly to place 7th worst in this year's results. Mini, Volvo & Audi round out the 10 worst-ranked brands.
Chrysler's "Ram" brand posted the greatest improvement, jumping from among the worst rankings last year to one of the top 10 best in 2013. Ford slipped from above the industry average in 2012 to just below average in the 2013 study. Cadillac in particular dropped significantly, while Lincoln improved to third-best.
Toyota continues to perform well in long-term dependability and earned seven segment (vehicle type) awards, more than any other automaker in 2013. Toyota saw recognition for the Lexus ES 350; Lexus RX; Scion xB; Scion xD; Toyota Prius; Toyota Sienna; and Toyota RAV4.
General Motors received four segment awards for the Buick Lucerne; Chevrolet Camaro; Chevrolet Tahoe; and GMC Sierra HD.
American Honda received two model-level awards for the Acura RDX and Honda Crosstour. The Audi A6, Ford Ranger, Hyundai Sonata, Mazda MX-5 Miata, and Nissan Z also received segment awards.
Top Rated Cars by Segment
Compact Car
Compact Crossover SUV
Compact Multi-Purpose Vehicle
Compact Premium Sporty Car
Compact Sporty Car
Entry Premium Car
Entry Premium Crossover SUV
Large Car
Large Crossover SUV
Large Pickup
Midsize Car
Midsize Crossover SUV
Midsize Pickup
Midsize Premium Car
Midsize Premium Crossover SUV
Midsize Sporty
Minivan
Sub Compact Car