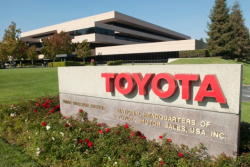 — Toyota will pay over $1 billion to settle a class-action lawsuit in the continuing unintended acceleration fiasco that started in 2009.
U.S. District Court Judge James Selna, of the Central District of California, granted final approval to the $1.6 billion settlement for members of the lawsuit that alleged the trade-in value of Toyota vehicles dropped after reports that vehicles were suddenly accelerating out of control.
Toyota has always claimed the vast majority of incidents were caused by sticky gas pedals and misplaced floor mats.
Under the terms of the settlement, Toyota will install a brake-override system in vehicles affected by floor mat recalls. The settlement will also establish a $250 million fund to compensate current owners not eligible for a brake-override system.
For those who lost money when selling their vehicle, a second $250 million fund will be established for owners who sold their cars between Sept. 1, 2009, and Dec. 31, 2010.
Although the settlement is a victory for many consumers, Toyota still must answer to upcoming personal injury and wrongful death cases.