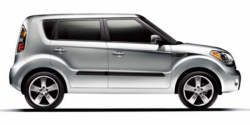 — Kia is recalling over 623,000 vehicles because of one faulty brake light switch that can cause a host of problems.
According to the National Highway Traffic Safety Administration, the recalled vehicles include the 2007-2010 Kia Rondo and Sportage, 2007-2011 Kia Sorento, 2007 Kia Sedona, 2010-2011 Kia Soul, and the 2011 Kia Optima.
Kia says the brake light switch may cause the brake lights to fail when the brake pedal is pressed. The problem could also cause the cruise control to stay on even when you press the brake pedal.
Additionally, the bad switch could cause problems with the push-button start feature.
But hey, that's not all!
This one switch can cause problems with the brake-transmission shift interlock feature preventing the shifter from being moved out of the "Park" position.
Not enough? The switch can cause the electronic stability control malfunction light to activate when it shouldn't.
Kia isn't sure exactly when parts will be available, but they plan on contacting owners in May, 2013.
With questions, contact Kia at 800-333-4542 about recall number SC098.