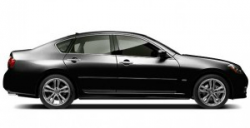 — Nissan is recalling almost 909,000 vehicles worldwide because they could die in the middle of the road.
The National Highway Traffic Safety Administration says the majority of the recalled models are in Japan. Those models include the Serena, X-Trail, Lafesta and Fuga.
In the U.S., 98,000 model year 2006-2010 Infiniti M35 and M45 cars will be recalled because a sensor in the gas pedal could fail. Nissan said the problem could cause serious problems with accelerating the car, to the point it could go into "limp home" mode.
Once in limp home mode, throttle valve deposits can cause the engine to stall.
The affected vehicles in the U.S. were manufactured April 4, 2004, through October 5, 2010.
The recall is expected to begin in early November, 2013. Dealers will replace the accelerator pedal and adjust the engine control programming. All of that should take about 90 minutes.
Owners may contact Nissan at 800-647-7261.