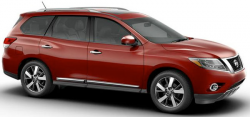 — Nissan is recalling 19,258 model year 2013 Pathfinder and Infiniti JX vehicles because of front brake problems.
Nissan said that during the front brake torque member casting process, molten iron overflowed from one mold into another mold.
The problem caused a structural weakness in the part that can cause premature cracking and failure. Your front brakes could fail to work properly because the brake caliper may move and contact the inside of the wheel.
Nissan said the affected vehicles were manufactured December 3, 2012, through January 29, 2013.
The recall should begin in early May, 2013. Dealers will inspect the manufacturing date of the torque members and replace them if needed.
Owners can contact Nissan at 800-647-7261.