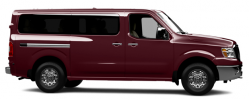 — Nissan is recalling 18,880 model year 2012-2013 NV vehicles equipped with steering column-mounted transmission shift levers. The affected vehicles were manufactured December 20, 2010, through January 4, 2013.
Nissan says they discovered the problem after a warranty claim for the column-mounted shifter cable clip. Technicians found a clip that was not positioned correctly. The clip is designed to retain the shifter cable to the column bracket.
After further inspection, Nissan found the clip may have been installed incorrectly during manufacturing at a Canton, Miss., plant.
Due to normal road vibration, the clip can disengage from the steering column bracket and allow the transmission cable to move out of position. This means the transmission shift lever will not match the actual gear position and you might think it's in "park" when it's not.
The recall is expected to begin April 8, 2013. Nissan dealers will make sure the clip in installed correctly.
Contact Nissan at 800-647-7261.